Prof. Stanisław Sołtysiński
Founding Partner, Of Counsel, attorney-at-law
Affiliated with SK&S since its creation, as the firm's co-founder. Specializes in civil law, intellectual property, commercial law and foreign investment law. Co-author of the modern Polish commercial and company law. Active in international arbitration as an arbitrator of the Court of Arbitration at the Polish Chamber of Commerce in Warsaw, the Vienna International Arbitral Centre of the Austrian Federal Economic Chamber, and the American Arbitration Association. On many occasions, he represented the Polish Government in the talks leading to Poland's association with the European Community, and advised the Polish Government on Poland's accession to the European Union. Was also an advisor to Drinker Biddle & Reath, a Philadelphia-based law firm. As a long-standing member of the Legislative Council, he provided advice to the Government as regards legislative reform aimed at fostering international trade and foreign investments. In 1997, he joined the Codification Commission and was Chairman of the sub-committee that drafted the code of commercial companies, adopted by the Parliament in 2000 to become law. The author of over a dozen books and more than 300 publications on commercial law, intellectual property, antitrust law and civil law.
Mobile phone:
+48 602 257 291
Completed studies in law (1961) and earned successive academic degrees (PhD: 1965, Doctor Habilitatus: 1970, Associate Professor: 1979, and Full Professor: 1988) at the Faculty of Law and Administration, Adam Mickiewicz University in Poznań.
Completed also postgraduate studies at the London School of Economics (1966-67) and at the Columbia University in New York, where he earned his Master of Laws (LL.M) diploma in 1973.
Was the Dean of the Faculty of Law at the Adam Mickiewicz University in Poznań, a Visiting Professor at the University of Pennsylvania Law School (1975-1991) and a Professor at the College of Europe in Bruges (1991-1995).
Received the title of Honorary Doctor at the Warsaw School of Economics in 2010.
Specializes in civil law, intellectual property, commercial law and foreign investment law
Co-author of the modern Polish commercial and company law
Honorary Doctor at the Warsaw School of Economics
Chambers & Partners: Corporate and M&A
Chambers & Partners: Dispute resolution
Legal 500: Dispute resolution
Rzeczpospolita daily – ranking leader in the following categories: company law, mergers and acquisitions, intellectual property law, antitrust law, lawsuit, and arbitration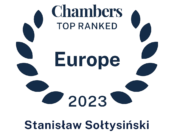 We are pleased to announce that IFLR1000 ranking recommended us in the following categories: Banking M&A Project finance Project development:…
We are pleased to announce that the SK&S and individual experts have once again been singled out by the publisher…
We are pleased to announce that the SK&S and individual experts have once again been singled out by the publisher…
We are pleased to announce that the law firm SK&S, as well as our expert attorneys, have been once again…
We are proud to announce that in this year's edition of The Legal 500 we have been recommended in 13…